In this post we are going to see how you can buy Osmosis without paying high commissions and in a simple and fast way. Currently, it is not in any main Exchange, and therefore we will have to use the keplr wallet and the Osmosis platform. If you don't know how to do it, let's see it here step by step. 
If you want to know more in detail all the aspects of this cryptocurrency, later after seeing the step by step we are going to see what is Osmosis so you can know more about this cryptocurrency before buying it and know what kind of project you invest your money in. 
Where to buy Osmosis
To buy Osmosis, we are going to use Binance and the Keplr wallet, since keplr is the most used wallet and compatible with the different Cosmos networks, among them Osmosis. Binance we will use it to be able to buy ATOM, which is an intermediate step we need to do to be able to finish buying Osmosis. If you have never used the keplr wallet, you can find a guide on our website so you don't get lost. Although if you have experience using other wallets like metamask, you won't have any difficulty.
You can find below a video to see it more clearly, and we are also going to see now the step by step in written form
Step by step
Let's see in detail how you can buy Osmosis. The first thing we are going to do is to log in Binance, if you don't have an account you can create one here. With your account, you must make a deposit to have funds to be able to buy ATOM. You can deposit funds with your credit card, to have the balance directly and without having to wait or bank transfer, although it will take a few days to be able to use it. 
Once you have funds in your account, you must go to markets, and select the pair of your currency with respect to USDT (Tether), for example EUR/USDT.

You will then be able to buy Cosmos (ATOM). Once you choose the pair, you have to go to sell, and indicate the amount you want to exchange your currency for USDT.
With the USDT bought, you can go back to the main menu to see that you already have them in your account and the order has been executed. Go back to the market, and look for the ATOM/USDT pair, and click on it. 
Here, you will see again the same buy and sell panel, where you have to go to buy, to exchange your USDT for the amount of Cosmos you want. Once you have chosen the amount, click on buy and you will have it.
You should always have a small amount of ATOM in your keplr wallet to pay for commissions, less than 1$. With 10-15$ of ATOM is enough for several transactions and you will not run out of ATOM in any transaction.
Once you have ATOM, you must click on the cryptocurrency on your mobile. In the case of the computer, go to wallet, and spot wallet. Here look for Cosmos (ATOM) and click on withdraw. Now you will see the panel to withdraw your cryptocurrencies from Binance.
Go to your keplr wallet, and click on the address below the name, you will see that it is copied when you click on an address. Check that you have the Cosmos network selected in your keplr wallet when you copy it.
You must enter this address in Binance to withdraw your ATOMs from Binance to Keplr. It is very important to indicate the Cosmos network, and the amount you want to withdraw. The commission is a few cents. Confirm that the information is correct and confirm the transaction with the codes. 
Open your wallet, and it should appear in a few minutes the amount of ATOM you have transferred. Always check that you are on the Cosmos network, as keplr has many different networks that you can use with their wallet.
With this done, we must go to Osmosis. The first thing we must do is connect our wallet, by clicking on the bottom left on connect wallet and confirm in keplr. With the wallet connected, we must deposit funds in Osmosis, being another network but using Cosmos, we can not go directly to exchange our cryptocurrencies, although the operation is very simple.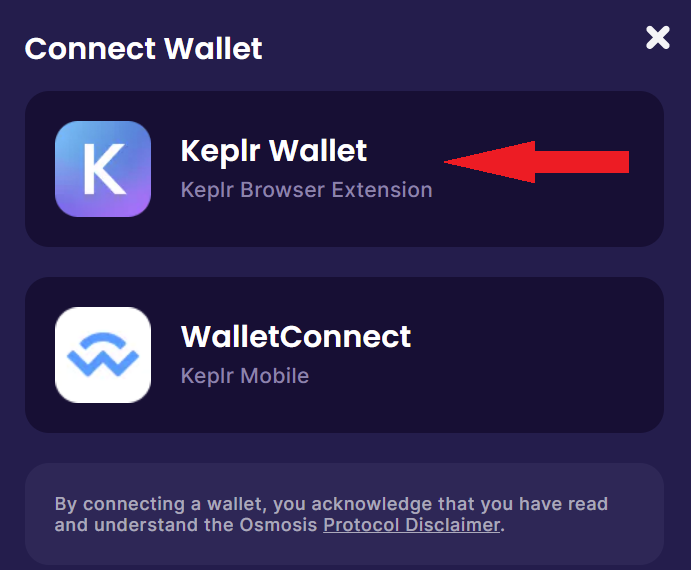 We go to assets, in the menu on the left, and here you can see different cryptocurrencies. We look for Cosmos (ATOM) and click on deposit. Here you will see the amount you have in the Cosmos network, and you can transfer to the Osmosis network to use them. Enter the amount you want, remember to always leave a small amount for commissions and click on deposit. Confirm the transaction in your wallet and you are done.
Now in balance, you will see the amount of Cosmos you have deposited and you can go to trade.
Here, you will see that Cosmos is already standard in from and to osmosis. All that remains is to indicate the amount you want, you can click on max or half using the buttons. Confirm all information such as amount and conversion rate, and click on swap. Confirm the transaction in your keplr wallet and you are done. Now you have Osmosis in your wallet.
With this you will have Osmosis and you will be able to staking in keplr wallet or use it for farming in their own platform.
Remember that the tokens are in the Osmosis network and not in the Cosmos network, but you can move them at any time in assets, by clicking on withdraw.
To summarize, let's take a look at the step-by-step we have just seen:
Deposit funds on Binance
Buy USDT with your currency
With USDT, search for the ATOM/USDT pair and buy ATOM
Withdraw ATOM to your Keplr wallet
Go to Osmosis
Deposit your ATOM in the Osmosis network in Assets, and deposit your ATOM in Osmosis.
With ATOM in Osmosis, go to trade
Indicate the amount of ATOM you want to trade for OSMO
Click on Swap and confirm in your Keplr wallet
You already own Osmosis 
What is Osmosis?
Osmosis is an advanced automated market maker (AMM) protocol that allows developers to build custom AMMs with sovereign liquidity pools. Built with the Cosmos SDK, Osmosis uses inter-blockchain communication (IBC) to enable cross-chain transactions.
Osmosis allows users to launch liquidity pools with unique parameters, such as linkage curves and multi-weighted asset pools. Osmosis' incentive structure is also adaptable. Governance implements liquidity reward (LP) rewards for specific pools, enabling strategic incentives.
Osmosis is an automated, fair and customizable market maker for interchain assets that enables the creation and management of non-custodied, self-balancing interchain token indices similar to Balancer.
Inspired by Balancer (opens new window) and Sunny Aggarwal's "DAOfying Uniswap Automated Market Maker Pools (opens new window)", Osmosis' goal is to provide best-in-class tools that extend the use of AMMs within the Cosmos ecosystem beyond traditional token exchange-type use cases. Bond curves, while having found their primary use case in decentralized exchange mechanisms, their potential use case can be further expanded through the customization offered by Osmosis. Through the customization offered by Osmosis, such custom curve AMMs, dynamic exchange rate adjustments, multi-token liquidity pools, the AMM can offer decentralized token fundraising formation, cross-chain staking, options market, and more for the Cosmos ecosystem.
While most Cosmos zones have focused their incentive scheme on delegators, Osmosis attempts to align the interests of multiple ecosystem stakeholders, such as LPs, DAO members, as well as delegators. One of the mechanisms introduced is the way in which staked liquidity providers have sovereign ownership over their pools, and through the pool governance process allows them to adjust the parameters depending on pool competition and market conditions. Osmosis is a sovereign Cosmos zone that derives its sovereignty not only from its application-specific blockchain architecture, but also from the collective sovereignty of the LPs that have aligned interest to the different tokens for which they are providing liquidity.
#Why Osmosis.
On liquidity pool customization.
Most major WMAs limit the modifiable parameters of liquidity pools. For example, Uniswap only allows the creation of a pool of two tokens of equal proportion with the 0.3% exchange rate. The simplicity of the Uniswap protocol allowed for rapid onboarding of the average user who previously had little or no experience in market making.
However, as the size of the DeFi market grows and market participants such as arbitrageurs and liquidity providers mature, the need for liquidity pools that react to market conditions becomes apparent. The optimal swap fee for an AMM trade can depend on a number of factors, such as lock-in times, slippage, trade fee, market volatility and others. There is no one-size-fits-all solution, as the combination of blockchain protocol features, liquidity pool tokens, market conditions and other factors can change the optimal strategy to be pursued by liquidity providers and market makers.
The tools provided by Osmosis enable market participants to self-identify opportunities and allow them to react by adjusting the various parameters. An optimal balance between commission and liquidity can be achieved through autonomous experiments and iterations, rather than setting a centrally planned "most acceptable compromise" value. This expands the market for WMAs and bond curves beyond simple token swaps, as the limitation of liquidity pool customization may have been the inhibiting factor for the more experimental use cases of WMAs.
#Self-managed liquidity pools
As important as the ability to change the parameters of a liquidity pool is, this feature would mean very little without a method to coordinate a decision among stakeholders. The governance function of Osmosis pools allows diverse liquidity pools with risk tolerance and strategies to not only exist, but to evolve.
In Osmosis, liquidity pool shares are not only used to calculate fractional ownership of a liquidity pool, but also the right to participate in the strategic decision making of the liquidity pool. To incentivize long-term liquidity commitment, shares must be locked for an extended period. Long-term commitments are granted through additional voting power/additional income from liquidity withdrawal. Long-term liquidity commitment by liquidity providers prevents the impact of potential vampire attacks, where share ownership is delegated and potentially used to migrate liquidity to an external AMM. This provides power equity among liquidity providers, where those with a greater stake in the game receive their legitimate power to steer the strategic direction of their pool in proportion to the risk they are taking with their assets.