In this post we are going to see how you can buy Luffy Inu without paying high commissions. Currently, it is not listed in any exchange, but you can get it through the DEFI Luffy Inu exchange. If you don't know how, let's see it here.
If you want to know more about this cryptocurrency, below we are going to see what Luffy Inu is so you can learn more about this cryptocurrency before buying it.
Where to buy Luffy Inu
To buy Luffy Inu, we are going to use Binance and the Metamask wallet, for me it is the best option, but you can also use other wallets if you don't use Metamask. Binance is going to be used to buy ethereum that we will need to buy Luffy Inu. Below you can see a step by step video to get rid of any doubts.
If you already have in your metamask Ethereum wallet to pay for commissions, you are simply going to have to head over to uniswap, and copy the Luffy Inu contract so you can find the token if it doesn't show up in to. You can find this on Coingecko or coinmarketcap by searching for Luffy Inu or you can copy the contract from the Ethereum network just below:
0xc1bfccd4c29813ede019d00d2179eea838a67703
With this contract, you will be able to find the token, in from to exchange it for the cryptocurrency you want in Uniswap. You can also add the token in metamask and see the amount you have once purchased.
It is currently listed on the exchange gate.io, which you can create your account below and buy without using uniswap in a simpler way.
Step by step
Let's see in more detail how you can buy Luffy Inu. The first thing is to log in Binance, if you don't have an account you can create one here. With your account, you must make a deposit to have funds and be able to buy ETH. You can deposit funds with your credit card, to have the balance directly and without having to wait.
With your first deposit, whether euros, dollars or other currency, you must go to markets, and look for your currency with respect to Ethereum (ETH). In my case, EUR/ETH. Here go to the red sell button, and exchange your currency, in my case euros, for ETH. We use ETH because the commissions on the Ethereum network are paid with this cryptocurrency. You can also buy USDT (Tether), but you must have an amount of Ethereum in your metamask wallet to pay for the commissions, which can be somewhat high depending on the day and time.
Once you have ETH, you must click on the cryptocurrency, and click on withdraw. Go to your metamask, and click on the address, you will see that an address is copied when you click on it. You must indicate this address in Binance to withdraw your eth from Binance to Metmask. It is very important to indicate the ERC20 network, and the amount you want to withdraw. The commission is around 6-7$. Confirm that everything is correct and confirm the transaction.
Open your metamask wallet, and if you have configured the etherum network, it should appear in a few minutes the amount of ETH you have transferred. Metamask usually defaults to the ethereum mainnet, so you will not have to configure it as in other networks.
With this done, we must go to Uniswap. Here in from, we indicate ETH and to, the Luffy Inu token. If you look for it, you will not find it. In order to use it, you must copy the address of the contract and paste it. You can search for it on coingecko or coinmarketcap to see it, or you can copy it just below:
0xc1bfccd4c29813ede019d00d2179eea838a67703
With this, the Luffy Inu token should appear in order to be able to exchange.
Before clicking on swap, check that you have the settings on the wheel at 0.50% to avoid large fluctuations in the price when you buy. In case you have problems in making the transaction, I recommend you to raise the slipping tolerance so that you can make the transaction. This is common in times of high volatility.
With the correct settings, just click on swap, confirm swap and confirm the transaction in the metamask wallet. Keep in mind that the commission in uniswap in some moments or days, can be a bit high. If this is the case, I recommend you try to buy at times when there are less people using uniswap or quieter days, where commissions are usually cheaper, as there are less people using the ethereum network. Also, remember to leave an amount of ethereum for transactions in case you want to sell or send the cryptocurrencies to another wallet or Exchange.
To see Luffy Inu in your wallet, recopy the contract we used to detect the cryptocurrency. Go to add a token, custom token and copy the contract here. As you can see, it detects the token and you will see the amount you have.
What is Luffy Inu?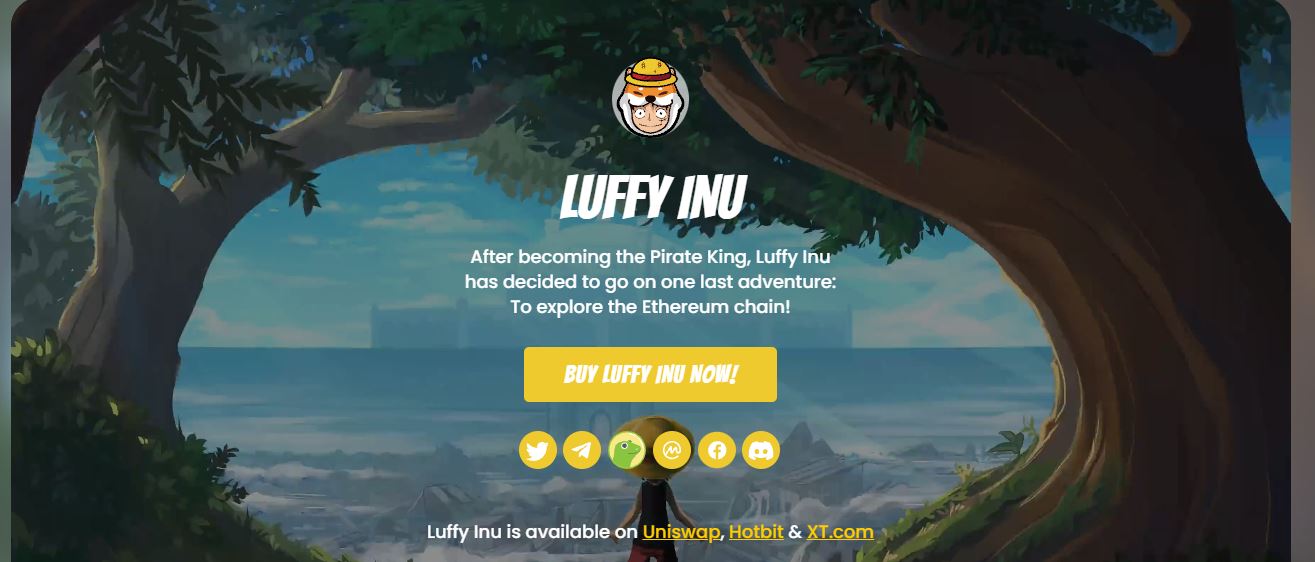 THE ADVENTURE
For decades mankind has wondered what the One Piece is. Many believe it's a treasure trove full of gold, diamonds and weapons.
Actually, it's even better: the One Piece is a treasure trove full of Luffy Inu tokens! Let's show the world the power of Luffy Inu!
Join the crew and become a Mugiwara!
The search for the elusive treasure, ONE PIECE, continues.
Luffy's new adventure begins by discovering what cryptocurrencies are. The ancient Inu have made huge profits from them, which seemed unimaginable to him.
Luffy has a great vision, which is to do things differently from his predecessors. Luffy dreams of becoming a Crypto King and embarking on a new adventure.
With the discovery of the ERC20 network, he began his journey by setting sail and launching a smart contract. Luffy's journey began on August 4, 2021. Luffy Inu chose to be deflationary and began his journey by burning 50% of his tokens on his way to becoming the King of Crypto!!!!
His mission is to build a community-driven cryptocurrency with an ecosystem of his own. Luffy believes that he can achieve this dream, especially if he has
a community of investors who are passionate about anime and anime culture Luffy intends to build a marketplace for exclusive ANIME NFTs, which will only strengthen the connection between him and his investors.
With the help of marketing funds, he hopes to recruit more Mugiwaras to help him achieve his goals. Luffy does not fight alone, but has the support of his Nakamas.
His friends are everything. After Luffy released his contract, news began to spread about his record. Over the course of the next few days, more and more of his nakamas joined in and helped grow his vision.
History was made and he became one of the first anime tokens. Luffy wants to use his project to accomplish what others could not. He would like his token to achieve cult status and be used among all his friends across the seas.
With Luffy's help, we intend to build a community that interacts with each other. We want everyone who loves manga and anime to connect.
In addition, the goal is to build a NFT marketplace and give underpaid manga artists underpaid manga artists the opportunity to make money with their awesome art.
Transparency
By burning liquidity and waiving the contract, Luffy provides community users with transparency that others do not offer.
transparency that others do not offer. In addition, the token was released in a fair manner and
there are no developer tokens. In addition, next steps are always decided in consultation with the community.