In this post we are going to see how you can buy Cat Token without paying high commissions. Currently, it is not listed on any exchange, but you can get it through the DEFI Uniswap exchange. If you don't know how, let's see it here.
If you want to know more about this cryptocurrency, below we are going to see what Cat Token is so you can learn more about this cryptocurrency before buying it.
Where to buy Cat Token
To buy Cat Token, we are going to use Binance and Metamask wallet, for me it is the best option, but you can also use other wallets if you don't use Metamask. Binance is going to be used to buy ethereum that we will need to buy Cat Token. Below you can see a step by step video to get rid of any doubts.
If you already have in your metamask Ethereum wallet to pay for commissions, you are simply going to have to go to uniswap, and copy the Cat Token contract so you can find the token if it doesn't show up in to. You can find this on Coingecko or coinmarketcap by searching for Cat Token or you can copy the Ethereum network contract just below:
0x56015bbe3c01fe05bc30a8a9a9fd9a88917e7db3
With this contract, you will be able to find the token, in from to exchange it for the cryptocurrency you want in Uniswap. You can also add the token in metamask and see the amount you have once purchased.
It is currently listed on the exchange gate.io, which you can create your account below and buy without using uniswap in a simpler way.
Step by step
Let's see in more detail how you can buy Cat Token. The first thing is to login to Binance, if you don't have an account you can create one here. With your account, you must make a deposit to have funds and be able to buy ETH. You can deposit funds with your credit card, to have the balance directly and without having to wait.
With your first deposit, whether euros, dollars or other currency, you must go to markets, and look for your currency with respect to Ethereum (ETH). In my case, EUR/ETH. Here go to the red sell button, and exchange your currency, in my case euros, for ETH. We use ETH because the commissions on the Ethereum network are paid with this cryptocurrency. You can also buy USDT (Tether), but you must have an amount of Ethereum in your metamask wallet to pay for the commissions, which can be somewhat high depending on the day and time.
Once you have ETH, you must click on the cryptocurrency, and click on withdraw. Go to your metamask, and click on the address, you will see that an address is copied when you click on it. You must indicate this address in Binance to withdraw your eth from Binance to Metmask. It is very important to indicate the ERC20 network, and the amount you want to withdraw. The commission is around 6-7$. Confirm that everything is correct and confirm the transaction.
Open your metamask wallet, and if you have configured the etherum network, it should appear in a few minutes the amount of ETH you have transferred. Metamask usually defaults to the ethereum mainnet, so you will not have to configure it as in other networks.
With this done, we must go to Uniswap. Here in from, we indicate ETH and to, the Cat Token. If you look for it, you will not find it. In order to use it, you must copy the address of the contract and paste it. You can search for it in coingecko or coinmarketcap to see it, or you can copy it just below:
0x56015bbe3c01fe05bc30a8a9a9fd9a88917e7db3
With this, the Cat Token token should appear so that you can exchange.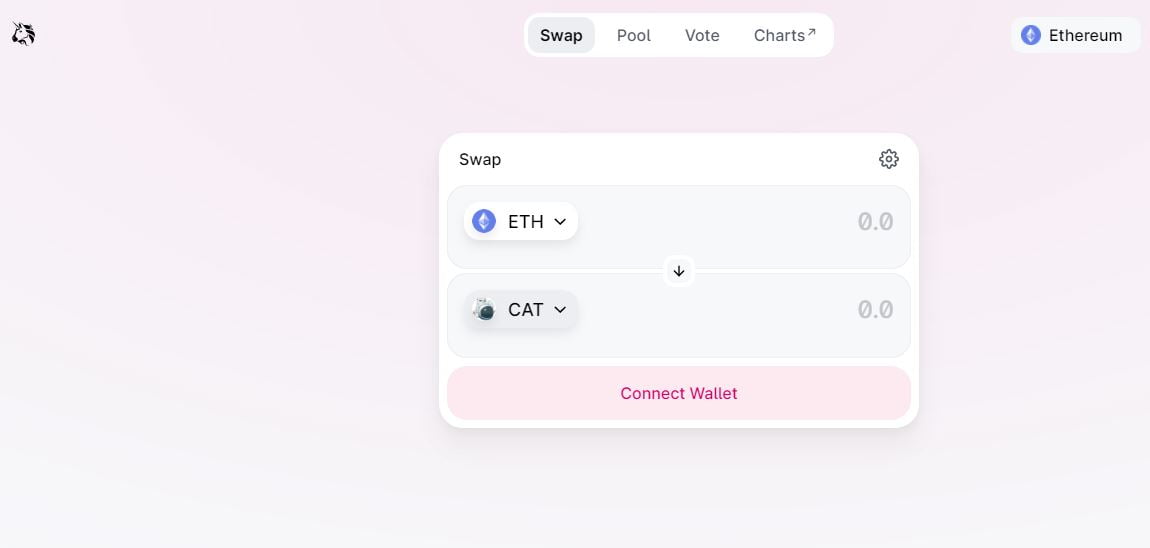 Before clicking on swap, check that you have the settings on the wheel at 0.50% to avoid large fluctuations in the price when you buy. In case you have problems in making the transaction, I recommend you to raise the slipping tolerance so that you can make the transaction. This is common in times of high volatility.
With the correct settings, just click on swap, confirm swap and confirm the transaction in the metamask wallet. Keep in mind that the commission in uniswap in some moments or days, can be a bit high. If this is the case, I recommend you try to buy at times when there are less people using uniswap or quieter days, where commissions are usually cheaper, as there are less people using the ethereum network. Also, remember to leave an amount of ethereum for transactions in case you want to sell or send the cryptocurrencies to another wallet or Exchange.
To see Cat Token in your wallet, recopy the contract we have used to detect the cryptocurrency. Go to add a token, custom token and copy the contract here. As you can see, it detects the token and you will see the amount you have.
What is Cat Token?
CAT Token – created for people who love cats.
The largest meme token ever created on a blockchain.
CAT Token is a meme token. Unlike other meme tokens like DOGE, our community is developing genuine use cases.
What really separates CAT Token from the rest of the meme tokens? Well, our mission is to create cat NFT trading cards. Cool, right? Our loving cat community will also focus its efforts on saving cats that have been abandoned and finding them loving homes, as each and every cat should be loved.
We truly believe that CAT token is an extremely unique community. It is unique only because of the extraordinary people who turn our ideas into reality. We are on a serious mission to make a difference. We hope you will join us.
Token Distribution:
A total of 15 million cat tokens will be distributed.
4 million cat tokens (and 500 more for cat luck, don't ask why) have been burned to reduce the supply at the request of the community;
5 million cat tokens were put into liquidity in Uniswap;
1.5 Million were to be returned to the community through various events (Via
Telegram or other means – Already completed);1.5 Million went to marketing expenses;
3 Million is retained by the team for future project expenses. Ex: Hiring more staff and developers.