If you want to buy Kaspa in an easy, fast and secure way, you've come to the right place. We will go directly to the information you need to know so that in a few minutes you can own this cryptocurrency. Omitting all the information that many times is given but is not necessary and important, and makes it a pain to follow a tutorial. Here, you can see the step by step, even with a summary for those who are even more in a hurry and want to buy it before it continues to rise in price.
Quick Summary
Create an account with Gate.io (Link below to create your account) or login if you already have one.
Deposit Funds by sending them through Binance (Cheapest option with almost no fees) or with your credit card or wire transfer within Gate.io
Click on trade your USDT or go to trade and spot in Gate.io
Once in the buy and sell panel, look for KAS at the top left and click on the KAS/USDT pair
Go to the center below on mobile, or to the right on computer and indicate the amount you want to buy. Indicating market so that it is done instantly
Click on Buy Kaspa and confirm the purchase
You already have in your balance the cryptocurrency, and you can see it in your main panel
Where to Buy Kaspa
To buy Kaspa there are not many platforms, and it is not currently listed on any major Exchange. Even so, you don't need to know how to use a wallet which can be complex for a new user, since gate.io does have this cryptocurrency so you can buy it, sell it or withdraw it from their platform once you've bought it.
Therefore, we are going to show you how you can buy Kaspa with gate.io, as we consider it to be the easiest and most convenient way . Especially for new users. If you are an advanced user, you can also buy it in decentralized exchanges with your own wallet, with the advantages and risks that this also has.
In case you can't watch the video or you're more of a reader, you can always watch the fully detailed step-by-step just below.
Detailed Step by Step
Kaspa is not available on many other exchanges yet. Therefore, we must use these two platforms. Since it is the best option to buy this cryptocurrency, while saving on commissions.
The first step is to make a deposit in our gate.io account. To obtain funds in gate.io, the best and cheapest option is to send them from another exchange such as Binance, since the platform has higher commissions for depositing funds by card or transfer. It is possible that in the future this will change, and that it will be even the same or very similar to deposit directly in gate.io with your card. So don't rule out this option either. What you can find in Buy Crypto.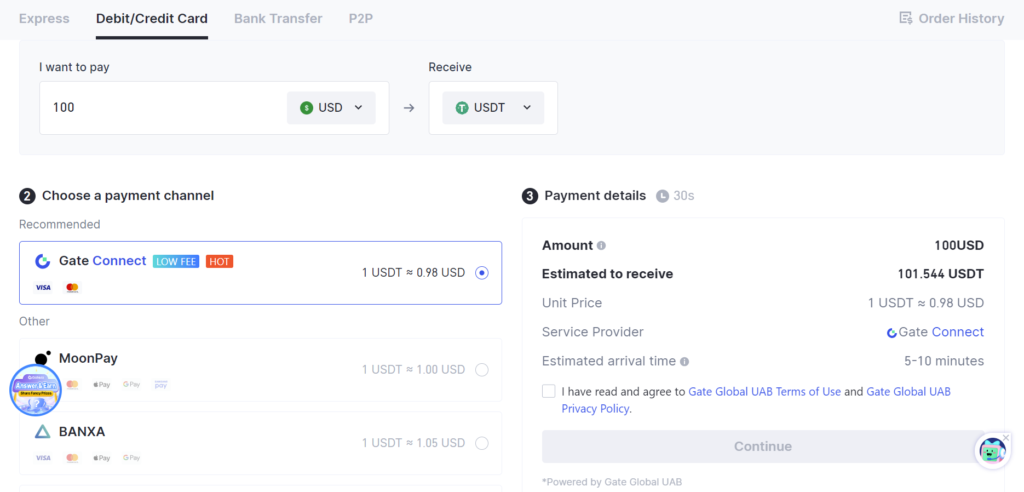 In this case, we will use binance, and we will send USDT (Tether), since it is the cryptocurrency used to buy Kaspa. If you deposit directly in gate.io, we recommend you to buy USDT, as it is the cryptocurrency that allows you to buy any other cryptocurrency within gate.io.
In our case, we already have USDT in our binance balance, but you can find a guide in our blog. With usdt, we will go to wallet, fiat and spot and click withdraw on USDT.
Now. the next step is to go to gate.io, and go to deposit. Here, we will have to click on tron/TRC-20 network, as it has the lowest commissions and only costs a dollar or less commission. We copy the address and go back to binance to paste it.
Once in binance, we must indicate the address, the same network, tron (trc-20) and the amount to withdraw the USDT. We confirm with our email and mobile, and that's it. Remember that you must indicate the trc-20 network to avoid problems when sending your funds.
Now, you just have to wait for the USDT to arrive in your Gate.io balance. It usually takes a few minutes until they are available and ready to use. Once they arrive, go to wallet and spot account, search for USDT and click on trade.
You will see the panel to buy and sell cryptocurrencies. Here, search for KAS, and you will see the KAS/usdt pair appear.
We will go down and indicate the amount we want to buy of Kaspa. Here, if you want to use all your usdt, just click on the number above and the total will be placed. At the top in Price you will see the current price of the cryptocurrency. You can also indicate the last price 1%, 3% or plus 5%. I recommend you to indicate the last price 1% so that the purchase is made instantly as you can see below. Otherwise, at the current price it may take some time to complete the purchase.
Once you have indicated the amount you want to buy, just click on the buy button and enter the trade password to execute the purchase.
In this simple way, you will already have Kaspa on your balance if you follow the steps we have seen.
To check it, it is as easy as going back to your wallet and spot account to see the amount you have. Just like that, in a few minutes you will have Kaspa in your balance.
Once you want to sell it, just go back to the same panel above, but this time we will go to the red sell part. Indicate the amount you want to sell, and click on Sell. This way, you will have USDT again and you can send it to Binance to withdraw it to your bank account.
Kaspa Price (KAS)
what is Kaspa?
Faster transactions
Kaspa's blockDAG network generates multiple blocks every second to post transactions to the ledger. Combined with transactions fully confirmed within 10 seconds, this makes Kaspa ideal for everyday transactions.
Instant confirmation
Kaspa was designed to be hundreds of times faster than Bitcoin, with each Kaspa transaction visible to the network in one second, and each transaction fully confirmed in 10 seconds on average.
Scalability
Kaspa solves the scalability problem with its ability to generate and confirm multiple blocks per second. This is achieved without compromising security or decentralization, as is the case with Proof-of-Stake networks.
Efficient proof-of-work
Kaspa uses the kHeavyHash algorithm for network consensus and security. This algorithm, combined with high-performance DAG and no-waste blocks, means it consumes less power than other PoW networks.
Security
Kaspa leverages an ultra-secure block network without compromising decentralization. It is achieved with a pure, stake-free proof-of-work combined with a revolutionary GhostDAG consensus mechanism.
BlockDAG
Overcoming the blockchain problem, Kaspa processes all blocks in parallel by linking all sidechains. This leads to a DAG structure that dramatically increases block formation per second, creating a blockDAG.
Kaspa is the world's first blockDAG, a ledger architecture that enables parallel blocks and instant finality of transactions. Propelled by a robust proof-of-work engine with fast one-second block intervals, Kaspa is open source, decentralized and fully scalable layer 1.
Built by industry pioneers, run by the people.
Faster transactions
The ability of cryptocurrencies to conduct everyday transactions has been limited by the lack of speed of popular networks, such as Bitcoin and Ethereum. This has prevented their mass adoption. The speed limitations are due to an inherently poor design of linear blockchains that do not have the ability to process transactions fast enough. Kaspa solves this problem through a novel "blockDAG" approach that creates multiple blocks every second. In this way, transactions are fed into the network and ready for confirmation almost instantly.
Instant confirmation
After transactions have been entered into a specific block on a blockchain, these transactions must be fully validated and confirmed by a network of nodes. Confirmation is necessary to ensure that the ledger of each sender and receiver has been calculated correctly, that funds are available, and that each transaction is, in fact, true and not an attack by a would-be hacker. Slow confirmation times have plagued cryptocurrencies for years. Kaspa solves this confirmation bottleneck by posting each transaction to the blockDAG in one second, and getting full confirmation from the validator in 10 seconds on average. After the upgrade, we expect these times to be reduced even further.
Scalable
Having a fast block ledger with instant confirmations is very important to users, but how many people and transactions can the ledger handle at once? Can thousands of people transact at the same time without affecting speed or confirmation? What about hundreds of thousands of people? What about millions or billions of people? These questions highlight the scalability issues inherent in most blockchains, i.e., that they get stuck or don't work as intended when a large number of users and transactions occur in a short period of time. Thanks to Kaspa's blockDAG design, we are better able to handle large numbers of transactions in very short periods of time, with multiple numbers of blocks created simultaneously and at an average rate of one block every second (wow, that's a lot of blocks!). This allows us to perform a large number of transactions in very short periods of time. This is something unique for a true, purely decentralized proof-of-work network.