If you want to buy Cronos in an easy, fast and secure way, you've come to the right place. We will go directly to the information you need to know so that in a few minutes you can own this cryptocurrency. Omitting all the information that many times is given but is not necessary and important, and makes it a pain to follow a tutorial. Here, you can see the step by step, even with a summary for those who are even more in a hurry and want to buy it before it continues to rise in price.
Quick Summary
Create an account with Gate.io (Link below to create your account) or login if you already have one.
Deposit Funds by sending them through Binance (Cheapest option with almost no fees) or with your credit card or wire transfer within Gate.io
Click on trade your USDT or go to trade and spot in Gate.io
Once in the buy and sell panel, look for CRO at the top left and click on the CRO/USDT pair
Go to the center below on mobile, or to the right on computer and indicate the amount you want to buy. Indicating market so that it is done instantly
Click on Buy Cronos and confirm the purchase
You already have in your balance the cryptocurrency, and you can see it in your main panel
Where to Buy Cronos
To buy Cronos there are not many platforms, and it is not currently listed on any major Exchange. Even so, you don't need to know how to use a wallet which can be complex for a new user, since gate.io does have this cryptocurrency so you can buy it, sell it or withdraw it from their platform once you have bought it.
Therefore, we are going to show you how you can buy Cronos with gate.io, as we consider it to be the easiest and most convenient way . Especially for new users. If you are an advanced user, you can also buy it in decentralized exchanges with your own wallet, with the advantages and risks that this also has.
In case you can't watch the video or you're more of a reader, you can always watch the fully detailed step-by-step just below.
Detailed Step by Step
Cronos is not available on many other exchanges yet. Therefore, we must use these two platforms. Since it is the best option to buy this cryptocurrency, while saving on commissions.
The first step is to make a deposit in our gate.io account. To obtain funds in gate.io, the best and cheapest option is to send them from another exchange such as Binance, since the platform has higher commissions for depositing funds by card or transfer. It is possible that in the future this will change, and that it will be even the same or very similar to deposit directly in gate.io with your card. So don't rule out this option either. What you can find in Buy Crypto.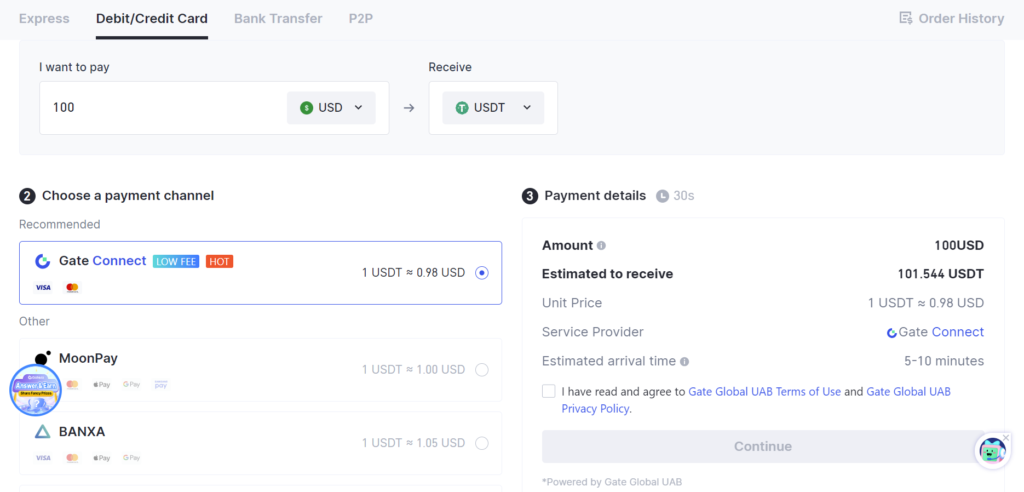 In this case, we will use binance, and we will send USDT (Tether), since it is the cryptocurrency used to buy Cronos. If you deposit directly in gate.io, we recommend you to buy USDT, as it is the cryptocurrency that allows you to buy any other cryptocurrency within gate.io.
In our case, we already have USDT in our binance balance, but you can find a guide in our blog. With usdt, we will go to wallet, fiat and spot and click withdraw on USDT.
Now. the next step is to go to gate.io, and go to deposit. Here, we will have to click on tron/TRC-20 network, as it has the lowest commissions and only costs a dollar or less commission. We copy the address and go back to binance to paste it.
Once in binance, we must indicate the address, the same network, tron (trc-20) and the amount to withdraw the USDT. We confirm with our email and mobile, and that's it. Remember that you must indicate the trc-20 network to avoid problems when sending your funds.
Now, you just have to wait for the USDT to arrive in your Gate.io balance. It usually takes a few minutes until they are available and ready to use. Once they arrive, go to wallet and spot account, search for USDT and click on trade.
You will see the panel to buy and sell cryptocurrencies. Here, search for CRO, and you'll see the Cronos/usdt pair appear.
We will go down and indicate the amount we want to buy of Cronos. Here, if you want to use all your usdt, just click on the number above and the total will be placed. At the top in Price you will see the current price of the cryptocurrency. You can also indicate the last price 1%, 3% or plus 5%. I recommend you to indicate the last price 1% so that the purchase is made instantly as you can see below. Otherwise, at the current price it may take some time to complete the purchase.
Once you have indicated the amount you want to buy, just click on the buy button and enter the trade password to execute the purchase.
In this simple way, you will already have Cronos in your balance if you follow the steps we have seen.
To check it, it is as easy as going back to your wallet and spot account to see the amount you have. So simple, in a few minutes you will have Cronos in your balance.
Once you want to sell it, just go back to the same panel above, but this time we will go to the red sell part. Indicate the amount you want to sell, and click on Sell. This way, you will have USDT again and you can send it to Binance to withdraw it to your bank account.
Cronos Price (CRO)
what is Cronos?
Cronos (CRO) is a cryptocurrency developed by the company Crypto.com, known for its cryptocurrency exchange platform and a range of financial products related to cryptocurrencies. CRO plays a central role in the Crypto.com ecosystem and offers several features and benefits:
Discounted Trading Fees: Similar to other cryptocurrency exchanges, CRO offers discounted trading fees on the Crypto.com platform, which is attractive to frequent users.
Crypto.com Debit Cards: CRO is used in Crypto.com's debit card program. Users who block (stake) a certain amount of CRO can get a card with additional benefits, such as rebates on purchases and free airport lounge access.
Additional Rewards and Benefits: Holding CROs can also qualify users for preferential interest rates on Crypto.com savings and credit products, as well as higher cryptocurrency rewards for purchases made.
Participation in Events and Launches: CRO allows users to participate in special events, such as syndicated sales and launches of new cryptocurrencies on the platform.
Cronos Blockchain Token: CRO is the native token of the Cronos blockchain, which is compatible with Ethereum and EVM. This enables the creation of decentralized applications and smart contracts on the Cronos blockchain using CRO.
Ecosystem Growth and Expansion: The adoption and growth of the Crypto.com platform and its related products could positively influence the value and utility of CRO, as it is closely tied to the success and adoption of the platform.