Welcome to this post, where we are going to see everything you should know before starting to play Binamon, its operation and future updates of the game.
This post focuses on the details and aspects that are important to know such as the types of Binamons, which ones are better and the best strategies to start playing, spending as little as possible.
This guide is not complete, as the game is still under development and one of the most important features, the play to earn mode, is still to be released. I recommend you to save this guide, and in case of any update, we will update it so you can keep up to date with all Binamon updates.
BMON AND BNRG
Before we start talking about more specific aspects of the game, it is important to know the cryptocurrencies that the game has and their functions.
BMON is the main cryptocurrency of the game and the ones that allow us to buy new monsters with a Moonster pack for currently 1,200 BMON or use the BMON in the Marketplace to buy binamons from other players.
BNRG: Energy is an unlimited supply token, which is minted as Binamon's game requires it. Binamon has developed such a coin since BMON is highly deflationary, this coin serves to bring dynamism to the game. BNRG has many deflationary mechanisms that contain a stable currency. For example, energy boosters can only be purchased with BNRG, and when you buy them, those tokens are burned. The main function is to buy Energy booster packs.
On the other hand, Energy BNRGs will have destruction processes in advanced game modes, so users are going to have to sacrifice energy to get achievements and power up Binamons.  Energy is provided to users in the form of staking, making NFT monsters and NFT energy staking. NFT energy staking is higher than 100% APY.
Monsters
Monsters are the main part of the game, and what we will need to start playing. They are what we will need to play the play to earn mode, and actually they can be used for quick fights by betting your BMON.
Binamon monsters have 5 main characteristics, these are hosted on the Binance smart chain (on-chain).
Class: Binamons are classified from class 1 to 12. This allows you to fight against Binamons of the same class. Higher classes will have better rewards in tournaments.
Attack: Attack is the power of a Binamon to damage another Binamon. Rank 1 – 12.
Attack Power: It is the defense a Binamon has to resist attacks. Rank: 10 – 100
Element: The element endows the Binamon with unique qualities. Currently we have 6 possible elements: Forest, Water, Fire, Light, Physical and Quantum.
All of these are randomly generated when buying monster boosters (3 cards per booster), through a Rarity Algorithm that is completely random, performed through the Binance Smart Chain (BSC).
The Rarity Table determines the probability of a Monster acquiring certain characteristics.
The combination of rare characteristics makes a monster even rarer.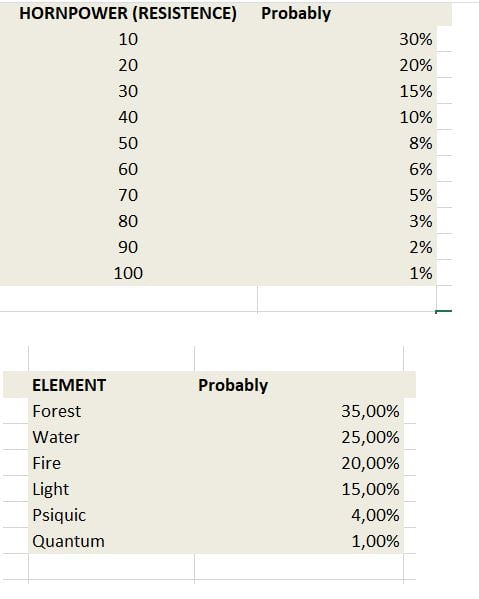 For example, a monster with Element Light, Attack 7, Horn Power 50 and Class 5 will have a 0.004% chance of being created. To know the probability of acquiring a specific monster, you would only have to multiply the probabilities to get your result! Knowing that three monsters come out for each Booster, then you would have to multiply by that by three. This means that to get that card, you would have to open approximately 83 Boosters. This algorithm is a statistic, you can get it eventually with luck or patience to keep trying. The algorithm is a cost guide of the NFT. The formula is: (Rarity / 3) x BMON price.
The NFT can be sold at a price higher or lower than that set by the Algorithmic Cost, depending on the market and your buyer. With the Algorithmic Cost, you have a guideline related to the amount of BMON you must spend to generate a given Monster.
Energy NFT
The energetic NFT increase the power of Binamons. They increase their attacks or their defense.
Energy NFTs allow the fusion of two Binamons. This requires a certain amount of energy.
Important: To power a monster with energy, it must be of the same element and of the same class. Thus, rarer Binamons will need rarer energies to power them. And more common Binamons will have easier access to energy.
As with monsters, there is the same rarity algorithm, however, there are only two energy states: Element and Class.
Energy is purchased with the BNRG (Energy) energy token.
Quick fight mode
To fight, you have to select your champion, who will represent you in battle against your opponents. In this mode, you can only fight against monsters of the same class.
IMPORTANT: Please note that in battle mode you will bet your available tokens and you may lose them if they run out. The calculation is done completely randomly by the Blockchain.
In battle mode you can bet BMON, BNRG, BNB and BUSD.
You will have different chances of winning depending on the power of your card and the power of the defending card. If your card is weaker than the defender's, your chances will be lower, but your reward will be higher. Select your opponents carefully.
If you bet BMON, you will win BMON.  If you bet BNRG, you will win BNRG.
If you bet BNB or BUSD, you will receive your prize in BMON with a real time conversion rate with Pancakeswap + your reward (if you win).
DEFENDERS
When an attacker loses, that bet goes to the prize pool.
Of that, 1% goes to the defending card, which receives in the form of passive staking for Battles.
If the prize pool grows, the other part of the winnings will go to betting rewards for the community and also to the development of new products.
NFT Binamon
Shop: In shop you will be able to buy the 3 available packs, the most important being the monster pack, where you will receive 3 binamons totally randomly per pack. If you want to know how to buy your first binamons, here is a step by step guide. As we commented in this guide, the price of the monster pack is variable, and as more people buy packs and more binamons are generated, the price of the pack goes up. Here is an image with the first row of the price and the second row, the binamons created when opening packs. So it is worth buying a pack as soon as possible, if you don't want to pay more BMON tokens.
Here you can also buy energy booster and other types of booster, which at the moment are not very useful, since play to earn or other ways to use your boosted binamons are not available.
Collection: Here you can find all your collection of binamons that you have obtained, with the algorithmic cost that the page itself calculates to know the price it can have in the market.
P2P NFT: Here you can find the marketplace that allows you to buy and sell binamons. Although they are not shown, if you know the code or ID of the binamon, you can see it and buy it. To find the binamons that are for sale, you can join in the discord. There you will find the codes or ID of the binamons for sale that you can copy and paste in P2P NFT to see them and what price they have. If any of them interest you and you have enough BMON, you will be able to buy them to add them to your collection.
Rewards: This is the farms part of Binamon. Here you can staking different LP tokens in exchange for receiving the 3 tokens of the platform, BMON, BNRG and Z1. You can find different pools such as BMON/CAKE, BMON/ADA and other pools.
Ranking: Here you can see a ranking of the different players, and which players have the most power and the highest class binamons. You will be able to find the top 100 players.
I hope this guide has helped you to know all the details of Binamon and to make better decisions. Remember that if you don't have an account with binance, you can create one just below.